Animatrix Index & Auctions >> Michael Arias Interview | DVD Review


THE ANIMATRIX DVD REVIEW - 06/03/03
Debuting world-wide today, June 3, is The Animatrix (Warner Bros./Warner Home Video). A fusion of CG-animation and Japanese anime, The Animatrix is a collection of nine original short films conceived by the creators of The Matrix trilogy, Andy and Larry Wachowski.

I had a chance to preview The Animatrix DVD and have provided you with some information and my thoughts on this short film series. I hope you find them useful!


---

Inspired by The Matrix trilogy's visionary action and innovative storytelling, The Animatrix delves deeper into the mind-bending world of The Matrix and the characters who inhabit it. Created in the anime style animation pioneered by Japanese artists, this stunning short film series features some of today's world-renowned anime filmakers, writing by the Wachowskis, and the voices of Keanu Reeves (Neo), Laurence Fishburne (Morpheus), and Carrie-Anne Moss (Trinity) on some of the shorts.

The Animatrix also features a techno soundtrack supervised by renowned DJ, producer, and remixer Jason Bentley along with hot electronica artists like Juno Reactor, Death in Vegas, and Meat Beat Manifesto. The original scores are provided by Don Davis, who composed the music for all three Matrix films.

The Animatrix collects the following nine original short films:


---
Final Flight of the Osiris
Written by Andy and Larry Wachowski
Directed by Andy Jones
Animation and production design by Square USA, Inc.




The crew of the hovercraft Osiris must get a message back to Zion, a message of vital importance. Easy to do, but for the armada of Sentinels between them and Zion.

The animation and production design for this short is by Square, which is the same team responsible for animating Final Fantasy: The Spirit Within. I think they did an excellent job as the character and set designs look great and the rendering for Final Flight of the Osiris feature even more details and realism in the people and environment than what we saw in The Spirit Within.

I wish that the Wachowskis had written a little more about the characters into this story so that we, the viewers, had more emotional stake in the plight of the Osiris crew. But being a short film, I can see the limitations of that. It's also possible we'll get a chance to see them explored more at a later time. What we might have lost in character development, is definitely made up for in the animation quality, action and lively directing done by Andy Jones, who was also the animation director on Final Fantasy: The Spirit Within. We get to see some incredible images including a beautiful lead female as well a menacing swarm of Sentinels.

This short is a nice prequel and leads right into both the Matrix Reloaded film and the Enter the Matrix video game.


---
The Second Renaissance - Part I and II
Written by Andy and Larry Wachowski
Directed by Mahiro Maeda
Animation and production design by Studio4°C, Tokyo




The Genesis of the Matrix: the last cities of mankind, the war with the machines, and humanity's ultimate downfall. An epic guided tour of the Zion archives and the history of the Matrix.

Even without the use of over the top action normally associated with Anime style animation, these shorts still manage to give us a compelling and dark look at the atrocities of man... acts we first committed on each other, then on the machines.

I think the Waskowskis wrote a fantastic set of shorts that give the Matrix mythology more depth by giving us a better understanding of how it all began. I feel there is an interesting message in some of the symbolism and parallels to man's own past that are used in these stories.

Even though these are only short films, director Mahiro Maeda, who directed the sci-fi anime series Blue Submarine No. 6, manages to still expertly convey an epic feel for these stories. I also appreciate how director Marhiro Maeda and Studio4°C, the animation and production design team, used the original robot designs created by comic book artist Geoff Darrow. Geoff Darrow's original robot designs were first seen in the online comics published at the official Matrix site. Even the beginning of The Second Renaissance - Part I seems faithfully storyboarded from his comic book version of the first robot on trial.


---
Kid's Story
Written by Andy and Larry Wachowski
Directed by Shinichirô Watanabe
Animation and production design by Studio4°C, Tokyo




Sitting in his high school classroom, "the Kid" gets a personalized invitation from Neo to escape the Matrix. But finding an exit proves more difficult than he ever imagined.

This is probably my favorite short in the collection. I love it for several reasons. First, I like the story. I think the Wachowskis wrote a sharp, crisp and what feels like an important story for the Matrix mythology. Second, I feel that director Shinichirô Watanabe, who also created, wrote and directed Cowboy Bebop, was spot on when directing this short.

But where I feel this short really excels, is the execution of the animation by Studio4°C. The style is brilliant, kenetic, unique and features a rough penciled like look with an interesting juxtaposition in style between the dilated, frantic and partially distorted action scenes with the style used in the thoughtful and calm scenes. They did a unbelievable job realizing Shinichirô Watanabe vision for this story.


---
Program
Written and directed by Yoshiaki Kawajiri
Animation and production design by Madhouse Studios, Tokyo




In the simulated world of a Samurai training program, CIS, a soldier of Zion, is forced to choose between love and her comrades in the real world.

Written and directed by Yoshiaki Kawajiri, the writer and director of Ninja Scroll and Vampire Hunter D, this one feels like it's the most traditional in the use of anime style with flowing fabric and a roof top battle. While the story does take place in the Matrix universe, it's also a medieval Samurai story involving a test of loyalty and honor.

I think this short isn't as compelling as the others and if I had to choose, this would be my least favorite. However, this does not take away my appreciation for this short as Madhouse Studios' animation and their use of the more traditional looking anime style on this story is still enjoyable to watch.


---
World Record
Written by Yoshiaki Kawajiri
Directed by Takeshi Koike
Animation and production design by Madhouse Studios, Tokyo




Through an incredible combination of will power and physical strength, Dan, a world-record-holding sprinter, breaks out of the Matrix and gets an all-too-brief glimpse of the real world beyond.

Written by Yoshiaki Kawajiri and directed by first time director Takeshi Koike, lead animator on Yoshiaki Kawajiri's Wicked City, World Record showcases a young and fresh style.

While a little raw and unrefined at points, this short is still a treat. Not only do you get to see the work of a young and budding talent, you get to see a unique and fresh design style. I think the use of intentional distortions and exaggerations in anatomy help make this short very cool and stylish.

I also like Yoshiaki Kawajiri story for World Record much more than what he wrote for Program. The story for this short is interesting and I like the concept of how Dan gets a glimpse of the real world.


---
Beyond
Written and directed by Koji Morimoto
Animation and production design by Studio4°C, Tokyo




In a quiet town where all is not as it seems, Yoko finds a bug in the system: an abandoned mansion in which anything seems possible. And then the exterminators arrive to "de-bug".

Written and directed by Koji Morimoto, the animation supervisor on Akira, Beyond is a terrific short film with absolute eye-grabbing animation and color. I really like the concept of this story, in which a bug in the Matrix creates a "haunted" house, a house where the rules of physics behave strangely. However, unlike most of the Matrix stories, where events like this are met with suspicion, these children merely explore and have fun, taking the audience with them.

I think Beyond is a fantastic example of how animation can still give a sense of magic. I really like the character designs in this short and I absolutely loved the captivating use of colors. The animation in this short film is so beautiful to watch.


---
A Detective Story
Written and directed by Shinichirô Watanabe
Animation and production design by Studio4°C, Tokyo




An Agent hires hard-boiled private investigator Ash to track down the cyber-criminal known as Trinity.

With clever writing and stylish directing by Shinichirô Watanabe, A Detective Story delivers a noir style story in a mostly black and white tale that revisits Lewis Carroll's Alice in Wonderland and Through the Looking Glass influences used by the Wachowski brothers in the first Matrix film. This time, instead of following the white rabbit, like Neo did, Ash has to find the Red Queen for some answers, not realizing he's working for the wrong side.

I found Ash's search through the looking glass for Trinity compelling and the noir look brilliant in design. Just like with Kid's Story and his work on Cowboy Bebop, you will find Watanabe and his work on this short film impressive and, as he always is, a little ahead of his time.


---
Matriculated
Written and directed by Peter Chung
Animation and production design by DNA, Seoul




A small group of rebels have captured a sentient robot and proceed to program it to act as an ally for their cause. They succeed too well in teaching the robot to prefer their "human Matrix" to machine reality. And the robot's appetite for the "human Matrix" may exceed the humans' ability to supply it.

Written and directed by Peter Chung, creator, writer and director of Aeon Flux, this short might be the most interesting and is definitely the most challenging or demanding for the audience to watch because of it's abstract nature. While it may appear to be a story about humans trying to teach a robot, I think it's actually a philosophical story about the robot and what it represents -- a linear or rigid mind.

Smartly written and directed, Peter Chung gives us a thought provoking, philosophical, and almost hypnotic and colorful story where background and overt meanings are deliberately left out for you to discover.


---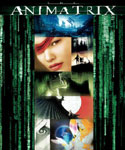 In addition to the nine short films, The Animatrix DVD also has English and Japanese tracks, Seven "making-of" featurettes including director profiles featuring interviews and behind-the-scenes looks at each film, four audio commentaries featured on the films The Second Renaissance Part I & II, Program and World Record (all with Japanese audio and English subtitles), an Enter the Matrix video game trailer with a look into the creation of the Enter The Matrix game - featuring interviews from some of the film's stars including Jada Pinkett Smith and Carrie-Anne Moss, and my favorite extra feature, Scrolls to Screen - The History and Culture of Anime.

I recommend that you watch Scrolls to Screen - The History and Culture of Anime before you begin viewing the short films. This special feature is a wonderful half-hour on the history, evolution and culture behind anime. It also features some well-known animators and animation scholars. I can't thank the DVD producers enough for including this.

Overall, The Animatrix DVD is a fantastic package -- stunning, sharp, and dynamic. Animation lovers, Matrix fans, or anyone who appreciates good visual storytelling should have it in their collection.


---


Discuss Behind the Animatrix in World Famous Comics' General Forum or with your favorite comic book creator at the World Famous Comics Community.

Get yourself a copy today! The Animatrix is available on DVD and VHS.



Animatrix Index & Auctions >> Michael Arias Interview | DVD Review