Welcome to the official site for Amy Allen, who portrayed
Aayla Secura in Star Wars: Episode II and Star Wars: Episode III.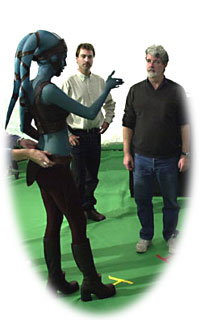 APPEARANCES SCHEDULE
List is tentative and subject to change.
TBA


ABOUT AMY ALLEN
At the age of 18, Amy Allen moved from Los Angeles to San Francisco to attend San Francisco State University where she received her BA in Film. After graduating, she went to work for Industrial Light & Magic, a Visual Effects company founded by George Lucas. As a production assistant, Amy Allen worked on several films, including Gangs of New York, before going to work on Star Wars: Episode II - Attack of the Clones.

As Episode II headed toward completion, George Lucas spotted the cover of a Dark Horse comic book featuring the beautiful and powerful Twi'lek Jedi, Aayla Secura. George Lucas found this exotic blue-skinned Jedi so compelling, that he wanted her in Episode II. Suddenly, Amy Allen found herself going from behind the camera to in front of it as she was cast to play Aayla Secura in Star Wars: Episode II - Attack of the Clones. Amy Allen also reprises her role as Aayla Secura in Star Wars: Episode III - Revenge of the Sith.

Since her role as the first Star Wars comic book character to be translated to film and one of the most popular Jedi, Amy Allen has made various appearances in the U.S., Europe, and Japan to meet Star Wars fans. Currently, she continues to work behind the camera on feature films.


CONTACTING AMY ALLEN
Write and send fan art to:

C/O ERI
Attn: Kevin Easton
21300 Victory Blvd
Suite 670
Woodland Hills, CA 91367

NOTE: New address as of Nov 2019. Mail sent to the previous Calabasas address will not be received and may be returned. Please feel free to resend mail to the current address above.


LINKS

Star Wars Collectibles - Graphic novels, toys, and more available at TFAW!
JanDuursema.com - Website for the co-creator of Aayla Secura!






Star Wars © 2023 Lucasfilm Ltd & ™. Star Wars and all characters, artwork, names, and other elements associated thereto are the sole and exclusive property of Lucasfilm Ltd. All rights reserved. Used under authorization.