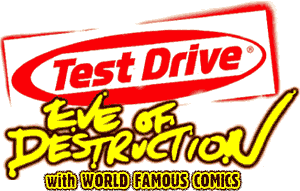 Welcome to Test Drive®: Eve of Destruction with World Famous Comics! We have for you an Eve of Destruction Art Contest and a review of the video game. I hope you enjoy them!

Don't forget to stop back often to see our latest list of Test Drive® auctions.


---

EVE OF DESTRUCTION ART CONTEST
Test Drive®: Eve of Destruction features thrilling races and hair-raising crashes! To celebrate Atari's release of this game, we're asking you to sequence for us your idea of a devastating and destructive car crash as either a page from a comic book, a comic strip, or as a storyboard. Two luck artists will win an awesome prize package provided by Atari. Check it out!

Art Contest >>


---

EVE OF DESTRUCTION GAME REVIEW
Released by Atari on Aug. 24, 2004, Test Drive®: Eve of Destruction is the latest installment of Test Drive® video game series. I had a chance to preview the PlayStation2 version of this game and have provided you with some information and a few of my thoughts.

Game Review >>


---

TEST DRIVE® AUCTIONS
We're keeping an eye on Test Drive® related auctions on eBay. Take a look!





---
For a copy of Test Drive®: Eve of Destruction...

Discuss Test Drive®: Eve of Destruction in World Famous Comics' General Forum or with your favorite comic book creator at the World Famous Comics Community.

Eve of Destruction Index >> Art Contest | Game Review