To celebrate the release of Test Drive®: Eve of Destruction,
Atari is providing prizes for World Famous Comics' Eve of Destruction Art Contest!
Eve of Destruction Index >> Art Contest | Game Review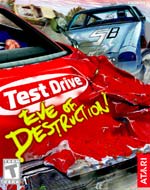 Test Drive®: Eve of Destruction captures the heart and soul of what gamers want in a high-action driving game -- thrilling races and hair-raising crashes! To celebrate the courage of these daring drivers, the carnage of these catastrophic crashes, and Atari's release of Test Drive®: Eve of Destruction, we had an art contest!

We asked our site visitors to sequence for us their idea of a devastating and destructive car crash as either a:
Comic book page
Comic strip
Storyboard
We had two winners with one PlayStation®2 owner and contestant recieving Test Drive®: Eve of Destruction for their PlayStation®2 and an Xbox® owner and contestant receiving Test Drive®: Eve of Destruction for their Xbox®.

In addition to the game, both contestants also won the following:



Roadside Car Kit
Limited Edition Dog Tag
Vehicle Shade
T-Shirt Vacuum Sealed in a "Tire" Shape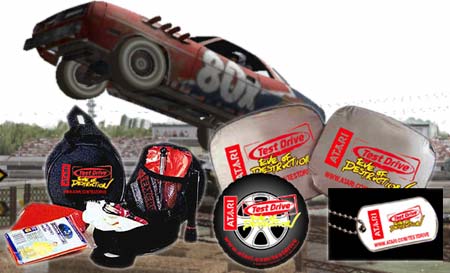 Man, look at all that loot!


Contest prizes were generously provided to us by Atari. To receive Atari insider info, exclusives, special deals, game hints, cheats and more, join My Atari!



Our Winners!
I hope neither of these crashes were from personal experience!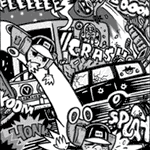 Brad ""blakgumz" Lambert
Savannah, GA

Showing us why it's a good idea to always look both ways before crossing the street, Brad wins the PlayStation®2 Prize Package!


J. Crosby
Hilliard, OH

By reminding us that larger vehicles have the advantage in a collision, this one is the winner of the Xbox®2 Prize Package!



Congratulations you two and thanks for entering our Eve of Destruction Art Contest!

Discuss this contest in World Famous Comics' General Forum.
Want to link to this page? Feel free to use this banner!








<< See More Contests!


World Famous Comics is the sole owner of contestant information collected from this contest. World Famous Comics will not sell, share or rent this information with possible exception to the winner(s) of this contest, who's postal address(es) will be shared with the company issuing the prize(s) for the purpose of shipping and distributing the item(s) won.

Sony Computer Entertainment America, Microsoft Corporation and Atari take no responsibility for this offer. © 2004 Atari, Inc. All trademarks are the property of their respective owners.


---
For a copy of Test Drive®: Eve of Destruction...

Discuss Test Drive®: Eve of Destruction in World Famous Comics' General Forum or with your favorite comic book creator at the World Famous Comics Community.

Eve of Destruction Index >> Art Contest | Game Review