To celebrate the DVD release of The Chronicles of Riddick: Dark Fury,
Universal Studios is providing prizes for World Famous Comics' Dark Fury Art Contest!
Dark Fury Index & Auctions >> Art Contest | DVD Overview & Review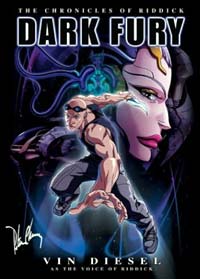 The Chronicles of Riddick: Dark Fury is an animated story that bridges the gap between Pitch Black and The Chronicles of Riddick Summer 2004 theatrical release. The film is directed by world renowned animator Peter Chung, the genius behind Aeon Flux and The Animatrix's "Matriculated".

While this DVD features Peter Chung's stylized visual interpretation of anti-hero Riddick, we wanted to see our site visitors' interpretation! Contestants illustrated for us their best rendition of Riddick with the winner receiving this awesome prize package:



The Chronicles of Riddick: Dark Fury DVD
Pitch Black DVD
Dark Fury 3-D Postcard
Dark Fury T-Shirt
Dark Fury Poster


We also awarded The Chronicles of Riddick: Dark Fury on DVD to our Runner-Ups and a Dark Fury 3-D Postcard for our Honorary Mentions! Prizes were generously provided by Universal Studios.



Our Winner!
With so many great entries, it was difficult to pick only one winner!
But finally, the awesome prize package goes to...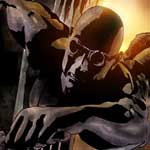 Jason Moser
Holland, MI

Portraying a unique style while capturing the dark mood of the Riddick universe, this cool illustration comes out on top as our winner! Congrats, Jason!



Our Runner-Ups!
Each receiving Dark Fury on DVD.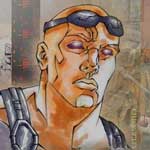 Randy P. Valiente
Cubao, Quezon City, Philippines

Randy wrote us saying, "I ended up using a 'post-industrial--surrealist--comic book art inspired' style (whew! what kind of style is that?)" A cool style and a style that makes you one of our runner-ups! Great work and congrats, Randy!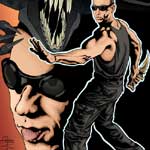 Justin Schillerberg
Omaha, NE

We think this illustration would've been pretty cool as box art for the Pitch Black DVD. The nice collage and tight rendering makes this one another runner-up! Fantastic job and congrats, Justin!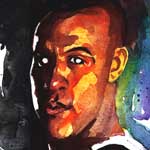 Chris Sandford
West Linn, OR

The style in this illustration reminds us quite a bit of our good friend, comic book artist and writer David Mack, the creator of one of our favorite titles, Kabuki. So for art that's just as inspiring, this entry is also a runner-up! Nicely done and congrats, Chris!



Our Honorary Mentions!



Graham Ganson
Smithville, TX


Darrell Ellis
Barrie, ON Canada


Laura Rhoades-Stovall
Swansea, IL


Tommy Coleman
Saline, MI



Paulo Roberto Antunes Filho
Rio de Janeiro - RJ, Brazil


Benjamin Loh
Singapore


Michael Gomez
Chico, CA

Thanks for entering our art contest Graham, Darrell, Laura, Tommy, Paulo, Benjamin, and Michael! You all had great entries and each earn a prize for your Honory Mention!

And Graham, for being the very first person to submit an entry, you get a First Entry prize in addition to you Honory Mention prize!
Discuss this contest in World Famous Comics' General Forum.


Want to link to this page? Feel free to use this banner!

<< See More Contests!
---
For a copy of The Chronicles of Riddick: Dark Fury...

Discuss The Chronicles of Riddick: Dark Fury in World Famous Comics' General Forum or with your favorite comic book creator at the World Famous Comics Community.

Dark Fury Index & Auctions >> Art Contest | DVD Overview & Review