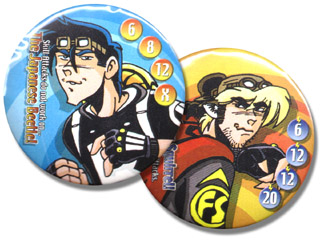 The Japanese Beetle fights for truth, justice, and the American Way - as long as it doesn't get in the way of his quest for fame and fortune. He likes tall blondes, sexy communists, and beating people up.
The Flying Squirrel has the proportionate strength, speed, and cheek space of a North American gray squirrel. He likes breaking the law, cavorting with squirrels, hibernating all winter and beating people up.
Sets retail for $4.50 each. To order a set, send a check or money order for $5.70 (that's $4.50 for the set and $1.20 for shipping & handling) to:
David White
213 East End Avenue
Pittsburgh, PA 15221
Oh, and if you're looking for Bayani's original (and unofficial) set of Button Men, you'll find them here.